How to play
The goal of Gravity Ace is to fly your ship through an asteroid cave system, retrieve a reactor core with your tractor beam, and escape with it intact.
Your ship is affected by gravity and inertia and you'll need to maneuver carefully to avoid the cavern walls. Use your gun to shoot down drones and take out turrets protecting the enemy base. Your fuel is limited so you'll need to fly carefully and scavenge extra fuel along the way to survive.
Fuel
Your engines are powerful but they use a lot of fuel. You'll need fuel to evade enemies and retrieve the reactor core. You'll also need fuel to make your escape so conserve enough for the return trip. Watch your fuel gauge. And look for refueling stations and fuel pods you'll find within the enemy bases.
Shield
Your ship is equipped with a shield. The shield is always active as long as you have fuel. When you take a hit or a big bump, the shield will temporarily deactivate and recharge. You are vulnerable and can be easily destroyed during the recharge cycle. Be careful!
Tractor beam
The tractor beam lets you connect your ship to another object and tow it behind you. You can use your tractor beam on anything that moves. To use the beam, move within range of the object you want to beam. An indicator will appear on objects that can be beamed. When using Modern controls, the tractor beam will target the object closest to the aiming crosshair/reticle.
Plasma cannon
Your ship's plasma cannon is a powerful weapon that can destroy most enemies in a few shots. You have unlimited ammo and it doesn't consume fuel. Use the aiming crosshair to help aim the cannon. The crosshair will change shape and color to indicate enemy targets that should be destroyed and friendly objects that should not be destroyed.
Tips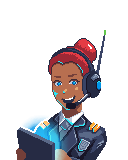 Gravity can help you move downward without fuel
Use your engine in short bursts; let inertia work for you
Use your shield to bounce and change direction quickly